Return to Headlines
Congratulations to GlobalMindED's 2023 Inclusive Leader Award Winner for K-12 Education: David Miyashiro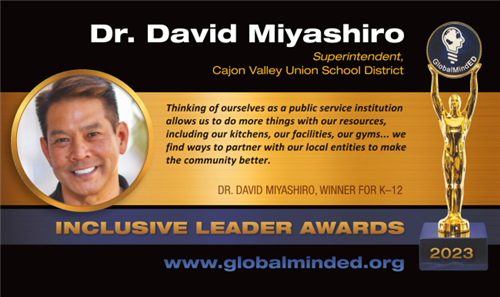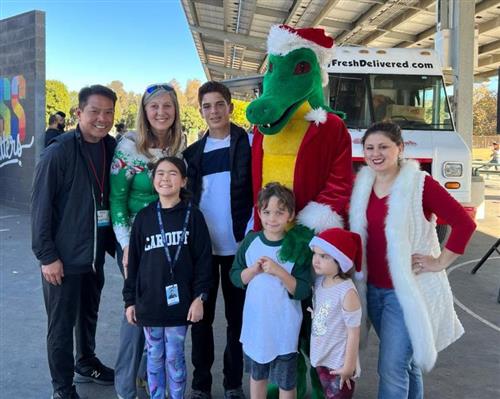 Congratulations to GlobalMindED's 2023 Inclusive Leader Award Winner for K-12 Education: David Miyashiro
David brings passion, energy, and creativity to his role, as can be seen in this 2017 Back to School video: CAN'T STOP THE FEELING (PARODY) - Cajon Valley Union School District illustrating his arc of time impact on the hearts, minds, determination, and vitality that can be a model for every school district at this point in time. Join us in congratulating David. You can meet David at the Inclusive Leader Awards Dinner and as he leads the panel "Impact of Inclusive Schools: From Awareness to Measurable Outcomes" at GlobalMindED on June 8th from 1:30-2:20. Details below.
What is your personal/professional journey?
The first half of my career in education as a teacher and school principal I successfully improved test scores in two of the lowest-performing schools in California moving them from schools on the state takeover list to National Title 1 Achieving Schools. While our test scores improved and the district leaders hailed our work, we noticed that our students were still going into generational gangs, getting pregnant as teenagers, and dropping out before graduating high school.
As Assistant Superintendent and now Superintendent I've successfully led two districts through digital transformation and earned recognition from the US Department of Education for our leadership in personalized learning through education technology. These improvements, while significant, still did not indicate that we were changing the trajectory or vastly improving outcomes for our students.
Beginning in 2014, we began creating our own "Modern Curriculum" designed around our vision of "Happy Kids, Engaged in Healthy Relationships, on a Path to Gainful Employment". Happy Kids - (Self Awareness, Self-Esteem, Self-Efficacy Belief) Healthy Relationships - (Peer to Peer, Peer to Staff, and Peer to Community) Path to Gainful Employment (Vocational Identity & Career Development for every student) We received national K-12 District of the Year for 2022 from K-12 Dive. Our work at Cajon Valley has been acknowledged in recent reports from The New York Times, Forbes, Brookings Institute, Christensen Institute, School CEO, Hechinger Report, and EdCal.
The Cajon Valley Union School District in San Diego CA has drawn global recognition for "The World of Work", the only of its kind comprehensive K-12 Career Development and Financial Empowerment solution. With the help of the San Diego Workforce Partnership (local workforce board), Chamber of Commerce, the local business community, and thought partners such as American Student Assistance (ASA), Getting Smart, and the Federal Office of Student Aid; Cajon Valley Trustees invested 2.5 million dollars into the development of this research-based framework and curriculum to ensure every student is on a path to gainful employment.
Since 2017, hundreds of visitors have come through Cajon Valley classrooms to learn and observe how to implement career development in the early years to assist students in developing self-awareness and a tangible "hoped-for self" that would lead to intentional decision-making in middle and high school. The Brookings Institute and ExcelinED brought ministers of education from around the world and policy makers from across the US to see the "World of Work" as a scalable solution. This past March, in collaboration with state policy and education leaders from Arkansas, Indiana, Kentucky, and many more, we partnered with American Student Assistance, Getting Smart, the San Diego Workforce Partnership, and the University of San Diego to host The World of Work Foundation Conference.
What makes you a remarkable and inclusive leader?
The ability to collaborate and develop game-changing solutions with an incredible team in the most diverse community (over 40 languages spoken in a 65-mile square area in Eastern San Diego) has been such a wonderful opportunity. In Cajon Valley #YouBelong... N=1. One size fits one.
What advice do you have for others who want to break through barriers?
Barriers are opportunities. In a meeting, Reed Hastings, CEO of Netflix, told me there are two reasons public schools will never successfully innovate (unions and school boards). The reason we have--and continue to--disrupt the status quo is precisely the leadership of our unions and incredible School Board. Leadership is the X-factor.