Return to Headlines
April 3, 2020 Distance Learning Update
Cajon Valley Parent Distance Learning Update
April 3rd, 2020
Hello Cajon Valley Families,
We hope this message finds your family well as we embark upon a new journey of distance learning together. Our goal at Cajon Valley is to support you and your child in learning together, which will mean calling on our collective knowledge, creativity, patience, and flexibility.
The Cajon Valley Team is working tirelessly to design a distance learning program for your child. Distance learning will begin on April 20th, 2020, after our scheduled Spring Break from April 6th- April 17th, 2020.
As we begin a distance learning program, our first goal as educators is to reestablish relationships and connect with your children utilizing online support and strategies. This will present new challenges, but Cajon Valley staff and students are prepared to overcome them. We have been implementing a 1:1 blended learning model since 2014 and our students and staff are accustomed to using technology for learning. We look forward to working collaboratively with you to make the most out of this difficult situation.
We've framed parent information around commonly asked questions.
Who will be guiding and supporting my child in distance learning?
When distance learning begins on April 20th, your student will be assigned one teacher/advisor to work with.
Elementary school students (Grades K-5) will continue to work with their classroom teacher.
Middle School students (Grades 6-8) will be assigned one advisory teacher. This teacher will connect, support, and guide students through distance learning. The advisory teacher will be someone familiar that both you and your student can go to for ongoing questions, support, or guidance. Students will also connect with their other middle school teachers through content area support and other learning opportunities.
Classroom teachers will work with other CVUSD staff to provide additional support for students.
Students with disabilities, that have an IEP, will have supplemental support provided through their special education case manager and related services providers.
How will my child receive lessons during distance learning?
All student work will be delivered through Google Classroom or Seesaw (Pre-K/K). Each week, students will be given a grade level "Playlist" of assignments, called the eLearning Playlist. You are not expected to teach, just make sure your child has time and space set aside to complete this daily work. Think of this as homework, only extended. If your child has an IEP, the special education teacher will be working with the classroom teacher to ensure that activities are accessible for your child and accommodated or modified as needed.
How long should students be working on playlists?
There will be approximately two and a half hours of assignments provided each day. Teachers may make adjustments based on individual student needs. Playlists are designed to balance on and off screen time and include simple physical activities and art based activities that students can participate in at home to enhance their learning.
What type of lessons are included in the weekly playlists?
Weekly playlists include lessons in:
Language Arts
Mathematics
Science
Social Studies
Physical Education/Movement
Social Emotional Learning
Career Development
Computer Science
Visual and Performing Arts
Presentation Literacy
In addition, several adaptive programs will support your child based on their current skills. As students work online, these programs provide more support or challenge based on responses:
iReady- English Language Arts
Achieve3000- English Language Arts
iReady- Mathematics
ST Math- Mathematics
Imagine Learning (ILE)- Language acquisition
Students with disabilities, that are unable to access the programs and activities on the playlist, may be assigned alternative programs or curriculum. Special education teachers and related service providers will be individualizing the playlist, as needed, for specific students.
Beyond these adaptive programs, teachers will be available online throughout the week to assist students with learning and provide support they may need. Students and parents may email teachers anytime with specific questions or requests. Staff will also offer office hours to meet online through Zoom, our district video conferencing tool. Online meetings may be organized for individuals or small groups.
What does a playlist look like?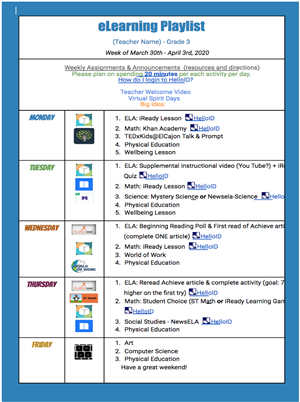 What if my child needs more challenge or more support with weekly lessons?
Please email your child's classroom teacher (elementary) or advisory teacher (middle school) to share your information or request. Teachers will work to adjust weekly plans that best meet the needs of your child. If your child has an IEP, you will be able to reach out to the special education teacher or related service provider for support and accommodations. The accommodations and/or modification of the assignments, if needed, will be done in the playlists before the students receive them.
Where can I find emails for teachers and site staff?
All staff emails can be found on the first page of the school website, under the title, "Staff Directory". Students can also email teachers directly through Google Classroom.
Where can I find additional parent information and resources?
Parents can visit www.cajonvalley.net/onlineresourcesparents for additional information and resources.
Parents can also visit www.cajonvalley.net and click on Parent Resources.
Special education will be sending a follow up letter with information about services and supports during distance learning.
When are playlists sent out?
Playlists are sent out by classroom teachers, every Monday by 9am.
How does my child access their weekly playlist?
Students in grades 1-8 will be able to access their weekly playlists on their Chromebook through Google Classroom. Students in Pre-K and K may access lessons through See Saw or Google Classroom. Individual teachers will inform families of their specific class delivery method.
What if my child's Chromebook has technical issues?
All sites have a designated day and time to address Chromebook issues. Please contact your site administrator or teacher for specific information.
What if I don't have internet access at home for my child?
Information about the Cox free and low cost internet can be found at https://www.cajonvalley.net/Page/18150
How will my child be graded?
At this time, it is important to note that students will not receive grades for their weekly assignments. Instead, we will be focusing on a growth model, where teachers provide feedback and students progress at their own pace. We will update this practice as we receive guidance and policies from state leaders. Until recommendations change, staff will focus on encouragement, support, and guidance. We are not looking for students to complete every activity every day; we are looking for students to engage for two and half hours broken into segments that make sense for both the child and the family. We want students to complete daily assignments to the best of their ability and with teacher's support as needed. Students will not be held back or marked down for not completing an assignment. These are unprecedented times, and educators and families are doing their best to provide academics, social interaction, emotional support, guidance, and empathy in such a way that students are stimulated and feel successful.
Will school counselors be available during distance learning?
All of our schools in Cajon Valley Union School District offer a comprehensive counseling approach for all students. School Counselors will be available during distance learning and your child's School Counselor's contact information is located on your school's website. We will continue connecting with students and offering counseling support through our Virtual Counseling Centers. Additionally, you can go directly to cajonvalley.net and click "Contact A Counselor" on the main page. We are here to help so please feel free to reach out to us.
What if I need to update my contact information for staff communications?
In order for your teacher/advisor to best reach you, it is important that all your phone numbers and emails are up to date. Please update your information in Parent Portal or email your site principal with your updated contact information.
Will there be assigned work during Spring Break?
No. Students may continue lessons on Achieve3000 and ST Math. Printed i-Ready materials are also available at https://www.cajonvalley.net/onlineresourcesparents
Will food distribution continue during Spring Break?
Yes. The current food distribution will continue Monday- Friday 11am-1pm, during our two week Spring Break. Due to the holiday, distribution will not take place on Friday, April 10th. Guidelines have been changed and parents may now pick up meals without their children present.
How will I receive updates about Cajon Valley and distance learning?
Families will receive weekly email communication during distance learning. This communication will provide ongoing opportunities for updates and resources.
Distance Learning Daily Responsibilities
Parents Role
Provide a comfortable space for your child to sit with their charged Chromebook.
If possible, provide a quiet space with minimal distractions.
Ensure that your home Wifi is working.
Encourage your child to stay focused, take breaks when needed, and help resolve any issues by helping your student contact their teacher/advisor.
Encourage your child to do their best, and be mindful of the daily time guidelines.
Students Role
Log into Google Classroom
Find your week's playlist in Google Classroom
Click on the assignments in the playlist and complete the assignments
Ask the teacher questions using email and look for teacher office hours.
Join the teacher in Zoom small groups when they are offered or needed
Ask for support from a teacher/advisor or school's counselor if needed
Teacher/Advisors Role
Reach out to students ensuring that they feel the love, support and empathy from their teacher/advisor.
Make a copy of the weekly eLearning, personalize as needed, monitor that students are logging on.
Host office hours for students and parents.
Run online Zoom individual or small groups as needed.
Monitor student progress and adjust the playlist to meet the students' needs each week.
Connect with parents to ensure the students have the time, space, and tools needed to complete their assignments.
Download this letter in English | Spanish | Arabic | Farsi | Swahili