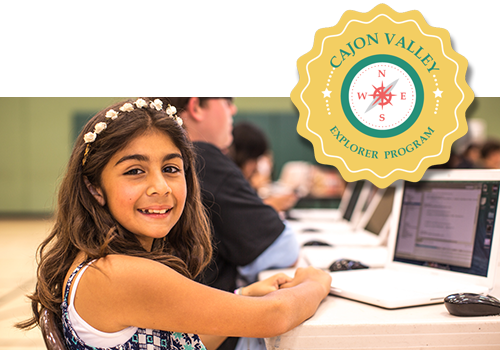 Explore endless exciting and enriching activities on a Saturday!

Welcome to the Saturday Explorer Program! This program was created to provide an enrichment opportunity to all students in Cajon Valley Union School District, while recovering one day of excused or unexcused absences. The Saturday Explorer Program will provide multiple options to meet the needs and interests of each child whether it is through coding, chess, art, work completion and other exciting things to come. This program will be available to all students in grades 1st to 8th and as we continue to grow we will continue to adapt to your input and your child's needs. All students currently enrolled in Cajon Valley Union School District are eligible to take advantage of this great program.
Hours:
8am - 12pm (Lunch Included)
Dates:
11/19/16, 12/10/16, 1/28/17, 2/25/17, 3/18/17, 4/29/17, 5/20/17, 6/3/17
Cost: Free!
Location: Emerald Middle School - 1221 S. Emerald Ave., El Cajon, CA 92020
Classes Available:
Art, Coding/Chess, Japanese, Physical Education, Theater, Makerspace/Woodshop (5th - 8th grade only)