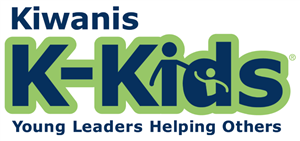 Kiwanis Kids Club program develops and empowers children to be leaders, to care, serve, and persevere. Students spend time developing service projects that will directly influence their community.
2016/2017 Upcoming Events- Saturday, May 6th Children's Hospital Miracle Mile of Quarters 8am to noon
We had so much fun at The Kiwanis Invitational Saturday, March 4th at West Hills H.S. see photos in the photo gallery. :)
The Rest home visit on Feb. 10th was a lot of fun. The ladies sure loved the cards we made!
Valentine Grams were a big hit...we collected $252.00! The money raised
will go to Children's Hospital at the Miracle Mile of Quarters in May.
We sang carols and visited with the residents at the rest home December 15th. They loved the cards our K-Kids made!
Our Food Drive Nov. 29-Dec. 8 was a huge success. All the food was delivered to the Salvation Army. Thank you everyone!
Friday, Nov. 18th-
Our fundraiser for the Leukemia and Lymphoma Society ended this week. We raised over $2,000! Ms. Wyer's class won the Olive Garden feast by collecting $280 and Ms. Kohl's class was in a close second place raising $269. Way to go everyone!
Friday, October 21st, several of our K-Kids members and their parents met Mrs. Bobo and Ms. Fenn at a local retirement home to spread some cheer and deliver handmade cards and treats to the residents there. We all had a great time! Thanks so much to everyone who was able to participate.
Congratulations to our new officers for this year:
President- Anjila
Secretary- Sedra B.
Treasurer- Gorginia
First meeting Wednesday, September 21st - Room 34 from 2:00 to 2:30
*What a great year! We really did make a difference in the world. :-)
*Our K-Kids Club fundraiser for the Leukemia Society raised over $600! Thank you to everyone who made it possible.
*On
May 7th, we participated in the Children's Hospital Miracle Mile of Quarters. Our club donated $100 to Children's and even got 2nd place in the quarter art competition. Thanks K-Kids and parents! Check out our photos in the gallery.
*We enjoyed our luncheon meeting Tuesday, April 19th with the Kiwanis Club! Thank you!
*Our Food Drive was a huge success! -Together, we collected over 300 food items to help the needy families in our community. Thank you Anza families!
* Saturday, March 5th we visited
West Hills High School in Santee and were buddies to the special athletes at the Kiwanis Invitational. Thank you to everyone who made this event one we will never forget! Don't forget to check out our pictures in the K-Kids Photo Gallery. :-)